Stress sucks and I do whatever it takes to quickly get it out of my life.  And when the market gets shaky and volatility goes up, it usually means moving many of my investments to cash.  That's where I am today – building up cash in a shaky world.
My current cash allocation by account:
401k: 100% cash as of last Wednesday (Feb 16th).  Although I don't recommend trying to time the market, my YTD P/L% (-4%) is better than the major indices.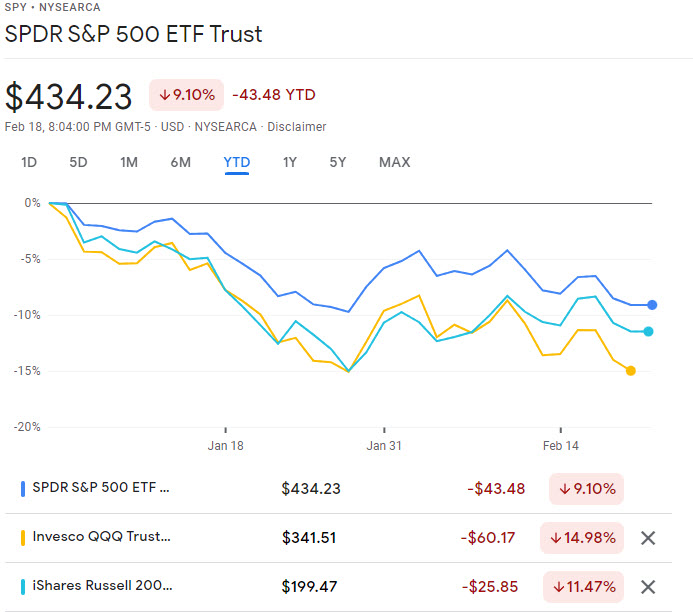 Robinhood Brokerage (high risk equities trading):  90% cash.  I'm down 7% YTD in this portfolio. The few positions I have will likely bleed before going back up, but I'm not overly concerned since the exposure is minimal.
M1Finance (Dividend income account): 0% cash. P/L% YTD (-4%).   My focus is to build up positions over time in quality dividend investments. I do not stress about short term moves in the underlying equity.
eTrade Brokerage (Growth oriented, swing trading): 83% cash.  Like my 401k, I'm pleased with my YTD P/L% (-2%)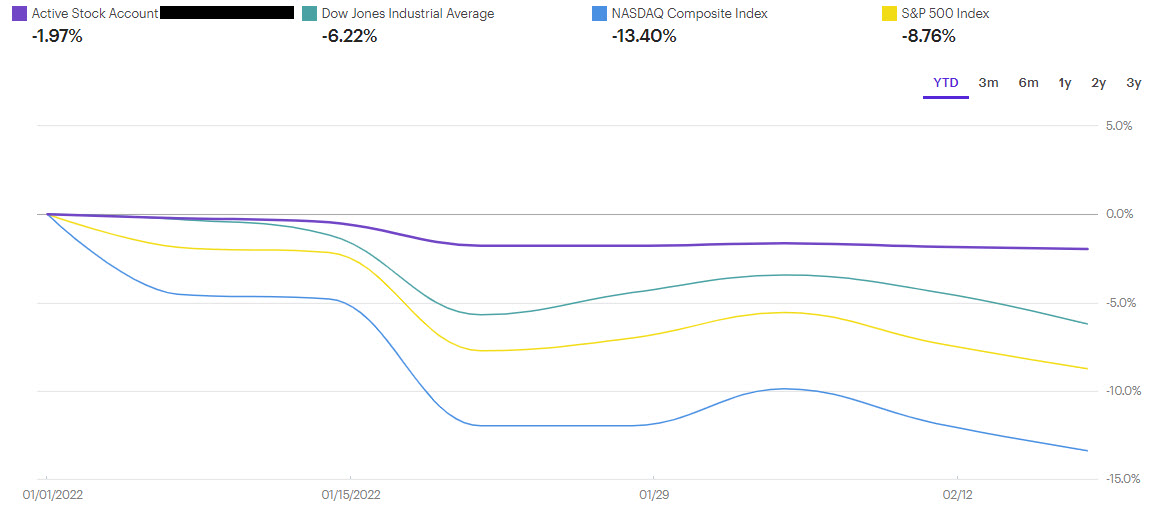 Etrade IRA: 10% cash. YTD P/L% also beating the overall market (-3.78%).
Webull (High risk plus some ETFs): 15% cash.  I've made some unfortunate trading mistakes here and am getting punished for it.  Luckily, Webull represents a small percentage of my portfolio, so the stress here is minimal.  YTD P/L% (-10.5%).
So, what's next?
First things, first.  As soon as the conflict in Ukraine starts to deescalate, I'll start to slowly move back into positions long.
Then there is inflation and rate hikes. I think the anticipated rate hikes in 2022 are largely baked in. However, I'm not convinced that the market has priced in significant spending slowdowns from the consumer.  We haven't seen too much of this yet and wage inflation is real, but I think the slowdown will hit hard and surprise a lot of people.  This may be just enough to slide us into a recession.
Outside of that, I'm watching the MA300 on SPY daily.  I honestly think the daily chart is setting up for a bullish reversal, but there are so many macro factors that could destroy technical analysis in the next 2-3 months.
The post 401k in Cash appeared first on Day Job Trader.